Ultimate chakra balancing
Did you know you have 42 'Awakened' chakras? Sue is a world expert on these chakras, and her energy work encompasses a wide range of techniques and practices. It is rooted in the principle that body is bioenergetic and seeks to maintain balance. Energy healing, or energy work, seeks to restore, promote, and maintain health and wellness to all those elements by influencing and supporting the body's bioenergies. Sue is trained in dozens of healing systems, and moves seamlessly within her mastery to create powerful, palpable shifts.
60 minutes - $80
Absentee /long distance healing sessions come with a written assessment and recommendations via email. For 2 days various healing as needed with an email describing what was observed / what was done. Work is often very deep & at a karmic level, frequently including family patterns/generational healing as well as causal / past life.
To work on you or another she needs: 1) permission of the recipient 2) their name 3) where they live 4) email address, and 5) a photo, which can be emailed. You will receive an email within 72 hours of your booked appointment time with further instructions.
30 minutes - $60
Solfeggio tuning forks (an ancient, sacred musical scale), planetary and angelic tuning forks, drumming, vibrational/sound making instruments, along with crystals and gems, lightly scented sprays of essential oils, flower essences and a little spiritual guidance are blended together for a session that is an uplifting and blessed experience. Expect Spirit Guides to assist in the work!
60 minutes - $80
Clairvoyant and medical intuitive Sue Burton Hidalgo partners with you to survey your energy pathways.
The goal is to "rewrite" your energy in a positive, supportive way, gently releasing old patterns that are dysfunctional. We are looking to clear your chakra pathways (all 32 chakras) in several areas: present time, childhood, past lives, future expectations, genetic line, individual and global karma.
Chakra EVOLUTION locates extensive and specific information using precision muscle testing and ESP skills. Sessions are completely tailored to you.
60 minutes -$80
Family Karma 9th Chakra DNA Healing
This 30 minute healing session is designed to work with the 9th Chakra, covering the family, wounded soul parts, DNA and Karma. All chakras will be opened with focus on the 9th Chakra, healing the soul's deepest wounds.
Session includes a 30 minute healing session, a FREE 9th Chakra Evolution Healer Spray that is charged with gems, crystals, tuning forks, crystal bowels and essential oils specific to this chakra. Spray valued at $9.00

30 minutes - $45
Angelic Healing
Sue received a technique to allow angels to use us as a 'step-down-transformer' for their energy so they can actually be felt touching and working on YOU! Sue works with nine specific angels to create a memorable experience made just for you.
You can schedule for a private session with her and you could also go to the Course Offerings section of this website to sign up to learn to do this work.
She has a book on amazon.com: Angelic Healing: Practitioner Workbook for Angelic Awakening.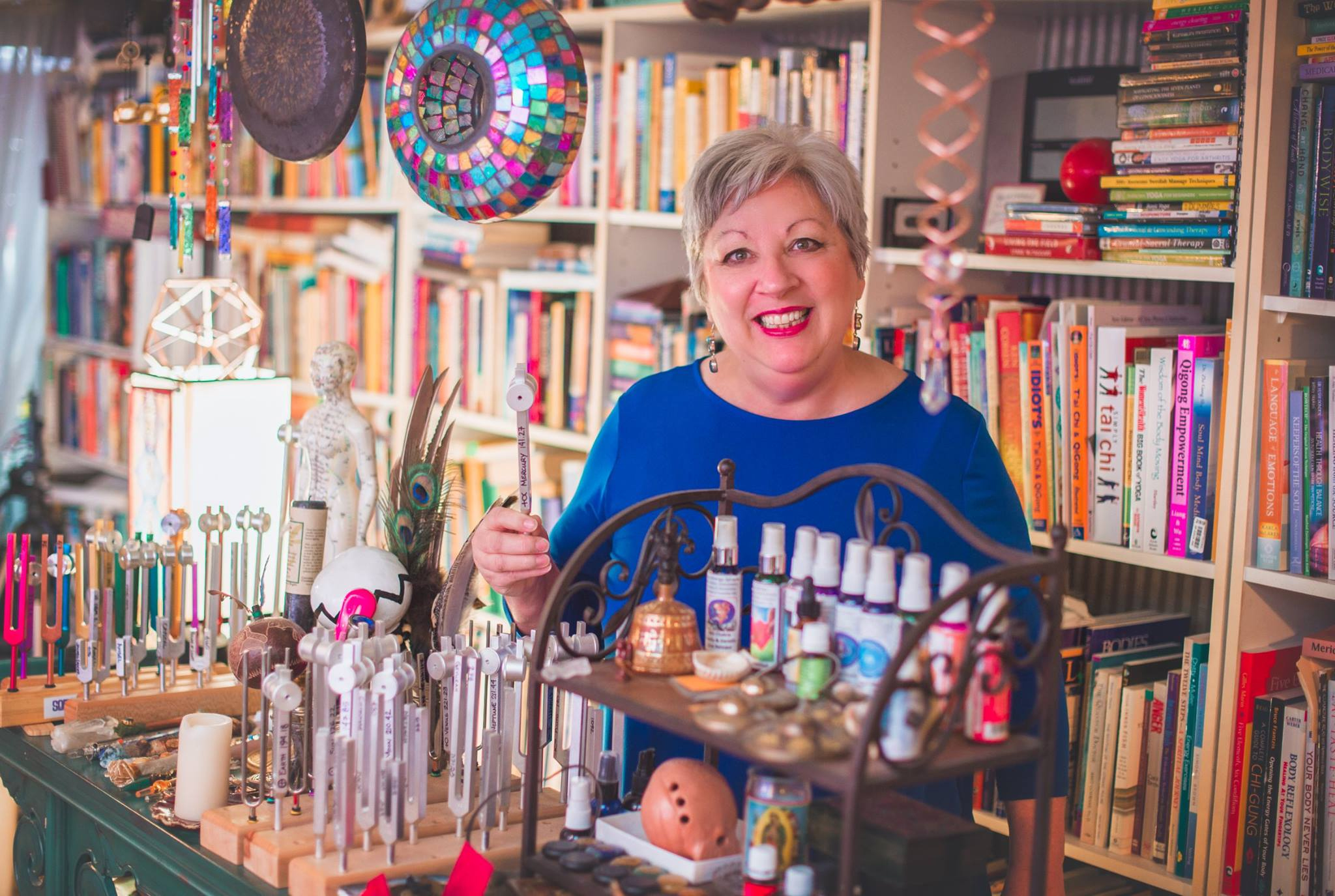 Sue creates evolution of your aura working with a variety of traditional and modern tools: Tibetan Bowls, Quartz Bowls, Tuning Forks, Rattles, Drums, Chimes. Each is tailored specifically for your needs. As a trained shaman and healer she uses the tools to draw in allies and powerful forces in a direct masterful impact for you.